Welcome back to Targa Newfoundland! After a four-year break, we're thrilled to share some exciting news about our recent 2023 event and future plans.
In 2023, Targa Newfoundland made a triumphant return, and while the entry was smaller than in previous years, it added a special touch of fun for everyone involved. Overcoming initial challenges, we successfully concluded the event on a highly positive note.
One noteworthy improvement was the introduction of the Bambina classing system, borrowed from our friends at Targa New Zealand. This system simplified and streamlined our run groups, making the event more accessible and enjoyable for participants. Basic preparation rules remain intact, but the removal of previous performance levels allows competitors the freedom to unleash their creativity and bring one-of-a-kind vehicles to the Targa stage.
Building on the success of this change, we've decided to formalize the new class structure for all upcoming Targa events until 2027. This ensures a consistent and exciting experience for participants and fans alike. The updated classes promise a dynamic and inclusive environment, providing competitors the flexibility to develop their vehicles according to their unique visions.
We encourage everyone to check out Volume One for a comprehensive understanding of what Targa events are all about and how Targa Newfoundland runs. Get ready for more thrills, innovation, and camaraderie as we rev up for an exciting future of Targa events!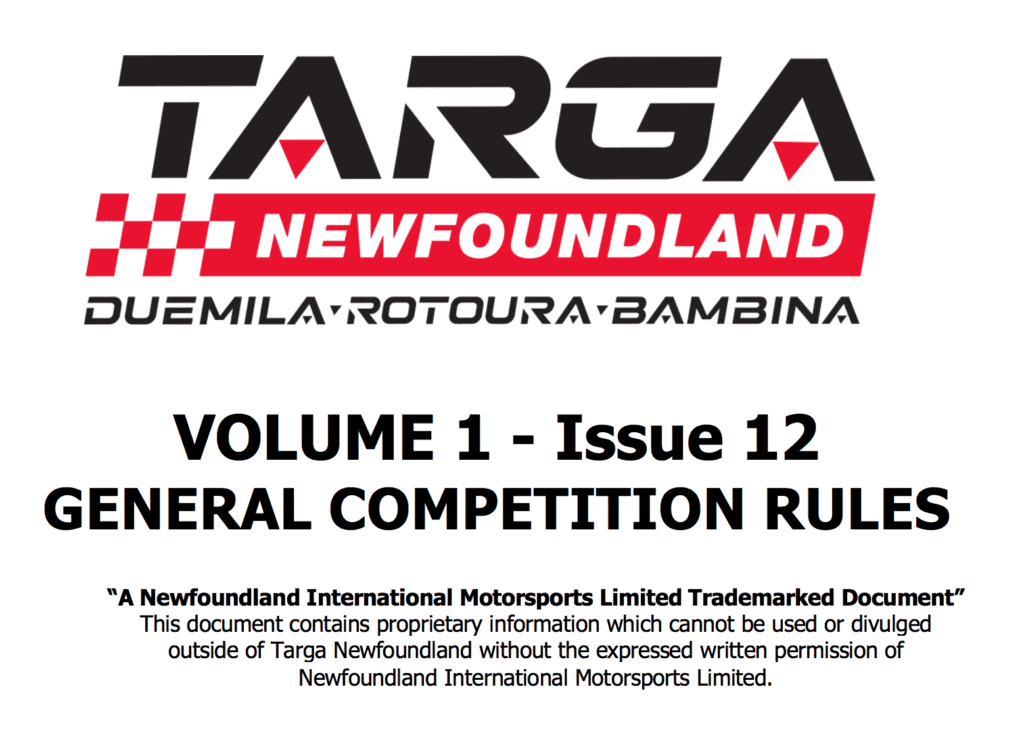 The new class structure is outlined as follows:
The Targa entries will be placed in Divisions Targa 1 (no cage vehicles) and Targa 2 (caged vehicles).
The Targa 1 and Targa 2 vehicles will be divided into:
Groups (two wheel drive and more than two wheel drive)
Classes (large and small displacement(> 2000 cc's and < 2000 cc's)
Sub Classes (Classic < 2000 and Modern 2000 and later)
The applicable rules as set out in the attached Volume 2 will read as follows:
6.2.3 Targa 1 and 2 Divisions
All vehicles in Targa 1 and 2 Division vehicles will be sub-divided into Groups by number of driven wheels, Classes by registration year (Modern or Classic) and by engine displacement (Large or Small). The Organizer reserves the right to change the classification on a misclassified vehicle.
6.2.4 Targa 1 and 2 Groups (TWD or AWD)
The number of driven wheels shall be the determining factor as to which Group a vehicle is classed in
The two-wheel drive Group (TWD) shall be composed of vehicles that have no more than two-driven wheels
The all-wheel drive (AWD) vehicles shall be composed of vehicles that have more than two driven wheels
6.2.5 Targa 1 and 2 Displacement Classes (Large or Small)
Each Classic or Modern Division Vehicle is assigned to either a large or small displacement group based on the adjusted displacement of its engine using the following multipliers applied to the actual displacement of the engine (All appropriate multipliers shall be applied):
6.2.6 Targa 1 and 2 Year Sub-Classes (Modern or Classic)
The year of production shall be as shown fist by the vehicle VIN, second by the registration documents and thirdly should the former not be available by the organizers based on the year of manufacture.
Hybrid Vehicles with both internal combustion and one or more electric motors capable, individually or together, of powering the vehicle through two or more drive wheels will be classes as modern.
Electric Vehicles with one or more electric motors capable, individually or together, of powering the vehicle through two or more drive wheels will be classes as modern.
This system applies equally to the Duemila (8 days) and Bambina (four days) and to the Targa 1 (no roll cages slower speeds) and Targa 2 (roll cages and greater speeds).
The Fast tour and Grand Touring Divisionals will remain the same.